CLEAR LIGHT CURABLE ADHESIVE
Epoxyset presents FLASHBOND UV-6502CL, a water white clear light curable adhesive for bonding, coating and sealing. Typical applications in for high strength bonding in electronics and opto-electronics industries. UV-6502CL is a very versatile adhesive with many application uses. This low viscosity, light curable adhesive is an epoxy with low cure shrinkage and high clarity. UV-6502CL cures best at 310-380nm wavelengths and will cure in under 6-8 seconds with 150 mW/cm² intensity.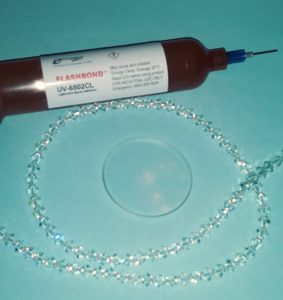 APPLICATIONS
This high strength epoxy adhesive cures to a rigid polymer. Consequently it is excellent for temperature cycling from -55°C to 150°C.   We recommend this adhesive for glass bonding because it does not cause fractures. UV-6502CL remains water clear once cured. As a result, customers use UV-6502CL for clear coatings. UV-6502CL is an epoxy adhesive that cures under UV or LED light in under 10 seconds. Therefore, it is an ideal adhesive for applications requiring quick processing. This adhesive is 100% solids containing no solvents. As a result, cure shrinkage is very low compared to urethane acrylates.
UV-6502CL is a high strength epoxy adhesive that bonds well to a variety of substrates. It bonds well to metals, ceramic, glass and FR4.  It offers excellent electrical insulation and low water absorption. UV-6502CL has a low viscosity which lends itself to be used as a coating, adhesive or sealant. This clear light curable adhesive also has a high Tg and service temperature which allows for use in high temperature applications. UV-6502CL is also a BPA free and halogen free adhesive. Therefore it is an ideal choice for electronics and medical device applications.
PACKAGING
Epoxyset offers FLASHBOND UV-6502CL in 3cc, 10cc, and 30cc light blocking syringes. We also package this in 1L and 5-gal bulk containers. UV-6502CL is a one component adhesive and therefore does not require the mixing of 2 components. It is ready to use when applied.
ABOUT EPOXYSET
Epoxyset is an innovative custom formulator of Epoxies, Urethanes, Silicones and Greases for the electronic, medical, semi-conductor, optics, automotive and aerospace industries.  Our extensive experience allows us to quickly modify our extensive product line for any requirement. Please contact our technical support staff at 401-726-4500 US Tech Magazine has published an article about FLASHBOND UV-6502CL in its June 2020 digital magazine. Click here to read more.