Epoxyset presents EPOXIBOND™ EB-116, a high strength epoxy adhesive for bonding, encapsulating and sealing. Typical applications in for high strength bonding in electronics and opto-electronics industries. EB-116 is one of the most versatile products Epoxyset offers. It is used worldwide as an adhesive, potting and encapsulating system, sealant, and coating.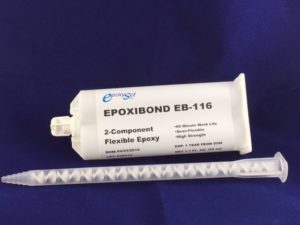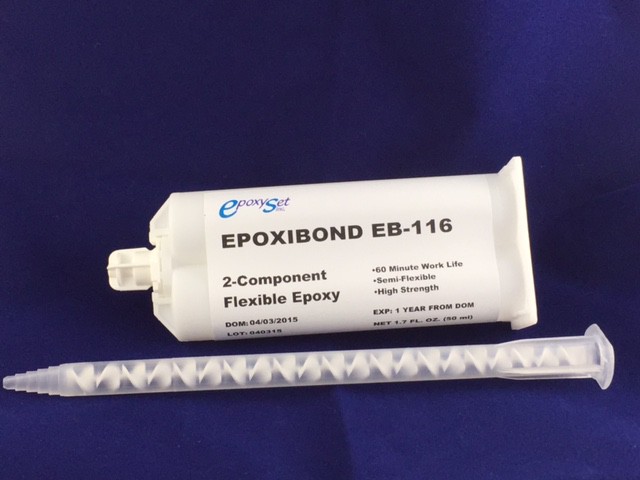 Applications
This high strength epoxy adhesive cures to a semi-rigid polymer. Consequently it is excellent for temperature cycling from -55°C to 110°C.   We recommend this adhesive it for vibration and impact resistance and does not cause component fractures. EB-116 does not become extremely brittle at very low temperatures. As a result, customers use EB-116 extensively for cryogenic applications. EB-116 has low toxicity and is non-hazardous. Therefore, it is an ideal adhesive for many medical device applications. EB-116 passes NASA Outgassing requirements. As a result, we recommend it be used in aerospace and military applications.
EB-116 is a high strength epoxy adhesive that bonds well to a variety of substrates. EB-116 bonds well to metals, ceramic, glass and many engineered plastics.  It offers excellent electrical insulation properties and can be cured at room temperature or quicker at slightly elevated temperatures. EB-116 has a low viscosity and flows very well into cavities and around wires, coils, and other subcomponents. Therefore, EB-116 is ideal for small component potting and encapsulating.
Packaging
Epoxyset offers EB-116 in bulk containers. We also package and offer EB-116 in easy to use dual cartridges. As a result, end users do not need to weigh or mix the epoxy by hand. In addition to videos and articles, Epoxyset offers technical support on the use of dual cartridges.
About Epoxyset
Epoxyset is an innovative custom formulator of Epoxies, Urethanes, Silicones and Greases for the electronic, medical, semi-conductor, optics, automotive and aerospace industries.  Our extensive experience allows us to quickly modify our extensive product line for any requirement. Please contact our technical support staff at 401-726-4500  US-Tech has published an article on EB-116 on US-Tech Digital. Please contact our technical support staff at 401-726-4500